So I picked up this video delay line box off Ebay: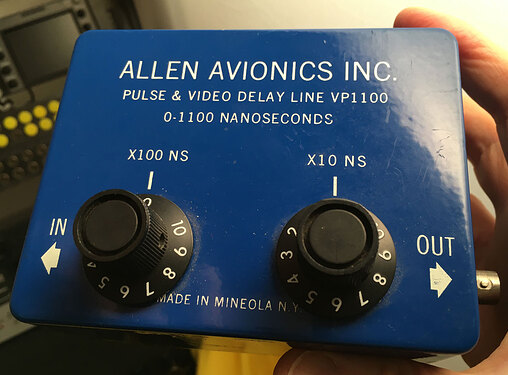 My expectation was that it would provide a very tiny amount of, you know, delay to a signal. But maybe I misunderstand what these things do, because I see absolutely no effect whatsoever.
First was just testing with video feedback but that wasn't quite a controlled enough situation for me to tell if anything was happening (esp. since there is a slightly loss of signal whenever a knob is turned).
Now running the output of a synced horizontal square wave oscillator (i.e. B&W vertical bars) through a distribution amp and then one copy directly into a mixer and another thru the delay line box and then into the mixer. Even at its highest setting, do not see any difference between the two signals when switching back and forth.
So, yeah, anybody have any experience with these things? Did I just buy something that doesn't do what I thought it did? Or is this thing not working?