Hello everyone. Is there anyone among you with a Sony DFS700A?
hi, welcome to scanlines. it might be a good idea to add a bit more context and info to your post about your situation and why you're asking. it will be more informative to others that way and be more likely to garner a response.
Oh yes yes , I didn't want to sully the readers right away!
I basically recovered this sony in question from a small TV studio but there are some things I don't understand because
a) I found the manual complex and not in my native language.
b) It's not like I'm that bright.
There are some technical wiring issues that I can't figure out, like: where do I put the preview monitor?
Because there's a Clean out output but (it seems) it doesn't do its Clean out duty but outputs the signal with the effects.
I would have tons of things to ask about that actually.

thanks for adding the info! i see your conundrum. that mixer is quite a beast it seems. i know someone who might have one, not sure if it's the same model, but i'll see if they have any tips about this.
I am trying to make a diagram of how I wire the various machines I have. I am asking for support because I am probably doing something wrong or missing something!
yeah, i'm not sure because i haven't used one but the people i know that have it basically just said yes it's a very complicated mixer in general.
what i would say is that usually a preview out does have effects on it. it's just an extra output that would let the person see what the mixer is sending out to the next device in the pipeline. and sometimes a preview out will have an on screen menu on it (not sure in the case of this one).
but it might be possible to re-assign what that output does within the menu.
I had never seen this mixer before and I've just been reading documentation…this page and the manual I attach here
dfs700.pdf (4.9 MB)
It turns out this is a 2-pieces device: a "control panel", which totally looks like a video mixer by itself, and a rack-sized "processor unit". Just to be sure: you got both pieces, right? Otherwise this sleeping beauty will not awake I'm afraid.
According to the manual, the preview output it's on the rack-sized part, the processor unit, and it is labeled "PVW OUT"…but the same connector is labeled "PVE OUT" in other illustrations I've seen around.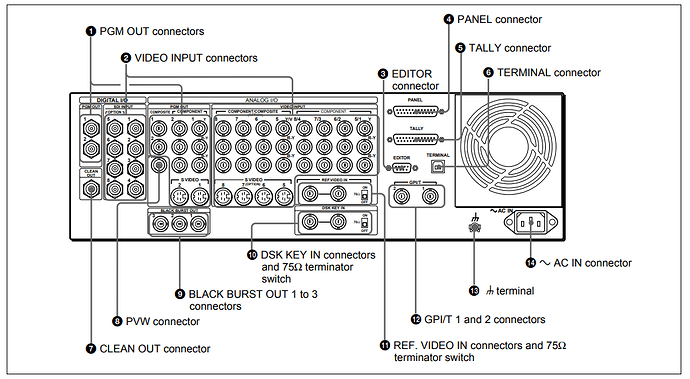 Hi. got both working control panel and processor unit.
Hoping to understand how I could use it improperly!
there's not really any kind of easy shortcuts to figuring out this mixer. (or pretty much any video mixers made from 1998 onwards…) My recommendation is to check sonys website and search for a manual in your language (they usually made versions in english, japanese, french, spanish, german at the very least) or whichever language is the least pain in the ass for you to translate, do a real quick scan of the contents and just page through it first to get a good sense of how its organized, then sit down with the mixer and the manual and work things out step by step. get some masking tape and add notes directly onto the control panel if you find yrself looking up the same thing over and over again.
hey, I got a Sony DCK500P, digital chromakeyer in the same format/series. Got it's own editor/controlpanel (w 50ft cable!!) )but it's also controllable from a DFS (or any RS232-connection). Can't find ANY info online about these machines…no specs or manual (just an exploded view of the rack-assembly and how they are built the same way (?)) Only minus is the "always-on-max" cooling-fan… anyone know anything about these gray boxes?