Maybe you have also been at first intrigued, then completely disappointed by the many historical attempts of mapping color to sound (or to specific aspects of music). Here are some observations about why they are bullshit little more than hypothesys.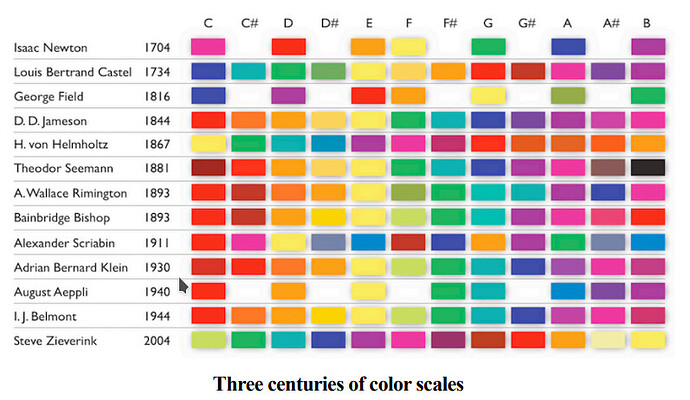 The most obvious observation to be made is that there is little consistency among the color scales proposed. Commenting on one such scale, the color theorist Patricia Sloane put it succinctly. "We should not need to be told that strong similarities rarely occur between systems created by human beings (say, music) and natural phenomena (say, color) (Sloane, p.314)."
Critical reviews have further argued about why direct mappings are unlikely to be satisfying. Jones concluded that there are significant differences between the nature of color and the nature of sound (Jones). The musical scale is divided into octaves with repeating qualities, where color has only a single spectrum. Where the ear can pick notes out of a chord, the eye is unable to distinguish various frequencies in a color-blend. And unlike the relationships among sound frequencies at various intervals, there are no such meaningful relationships between color sensations and light frequencies.
Garner added that while a note produces harmonics, a color does not and that while notes in a musical chord occur together, hues in a color chord have to be placed separately. He concluded with the observation that notes are about time, while hues are about space (Garner).