has anyone 3D-printed a standalone housing for recurboy that they might be willing to share the files for? thanks.
this is something i have had in mind, but havnt got around to it.
@BastienL made a euro panel for his tho if that is of interest: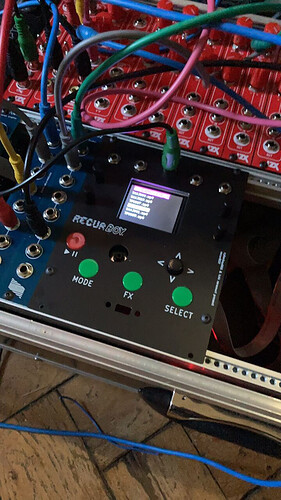 I'll re-design the panel and post the gerbers once I got it tested, cause the current one has a few issues:
the hole for the directional switch is too small so it cannot move in the XY axis

RPi USB port is too close to the top rail, I can probably move the hole for the front USB port to the top, and move the RecurBoy board down, else another option is making the panel a bit larger to add the hole for the front USB port on the side.
Anyway, will keep you updated on the progress if anyone is interested.
Whats exactly the differcence between recurboy and recur?
Yeah @BastienL, this looks great! Actually I guess it just needs a bottom piece to be a portable standalone unit (and this would make it easy to switch between standalone + euro)
@Meudiademorte recurboy is a sort of simplified version of recur, built on raspi nano (instead of full raspi), making it smaller form factor. the recurboy build has cv input and onboard controls, which is really nice

using recur with the incur add on in my eurorack. so i just was wondering whats the limitation von the recurboy… i really love the onboard controlls on the panel!
Exactly, that's also what I have in mind for the next CBV release. Right now I got a separate circuit for both the module and the standalone version, the idea is to have the same circuit/front panel, and use a bottom piece + power supply for it to be standalone (as it is done on BPMC Fluxus Duo, SleepyCircuit Hypno or LZX Chromagnon)
For now I'm thinking to 3D print it and use M3 brass insert to screw the panel to it, then the other thing is figuring out the power supply if the module requires bipolar voltage, but in your case, the Recurboy can be powered by USB, which is quite handy.
Great! Excited for that next CBV release, that flexibility will be great.
For the case, I'm thinking it would be nice to have a little opening in the top to kind of fold the USB stick + adapter back into the case (so it's not dangling off the top).
BTW one nice thing I noticed about the raspi nano (vs. the 3b) is that it seems to work with pretty much any USB adapter (whereas the 3b is quite finicky).