based on some discussion in the chat i have installed this calendar plugin -> some details on how to use it here
we can add the streamlines events here as they are announced, but also anyone else who is running streams / workshops / whatever should add their stuff too !
from what i have seen posted here so far @andrei_jay @respirator @cinema.av @boilingsky @v3d @ojack might have events they want to share ? (and many more im sure too ! )
awesome! somethin id like to mock up too once a couple of folks fill this out is like a 1 page website with tiny stream embeds on it to a whole grip of video artists who regularly stream so theres like 1 page folks can check out anytime they are bored and see if anyones live
this is a nice idea - could quite easily serve this from the scanlines server if needed. (or githublab pages is another option

)
this is great!
we are running our older kids at home summer camp this week but I want to just do a simple scrawl demo this weekend
would @palomakop or @cyberboy666 mind if I streamed through scanlines for this? Otherwise I can just upload the video here after.
if you are in for a goof check out this digital scavenger hunt I sent them on just now.
in order to get into the zoom this afternoon they have to find the ID and password

it is meant to be done on a phone since they are all 6-12 grade
it is all much easier on a computer

I had to really hold myself back
@respirator do you want your stream to be on the scanlines frontpage , or to use the server and embed / render it somewhere else ?
this reminds me of something thats been mentioned before , the idea of having a url / subdomain that always renders from our stream-url , that way people can use it / share links / embed? from here without it needing to be an "organised event" …
… this could even be combined with @andrei_jay idea of a single page aggregate of video-artist streaming channels.
i think a static site generated from git repo is best way to do this since then it is easier for people to contribute / collaborate on it.maybe wil take a look into this idea soon-ish
tv.scanlines.xyz ? live.scanlines.xyz ? stream.scanlines.xyz ?
I'd love to go to front page if you all don't have something planned already
but if that is a bunch of extra work on your part don't worry about it!
yes I really like the idea of having our own public access channel essentially
I think I'd go tv. or stream.
@respirator i can turn on the embed for you on sunday
@cyberboy666 i think i like stream.scanlines.xyz, because it sounds like a sentence/instruction. plus if we had "tv" in the name i'd just think about getting scanlines.tv but i'm trying to not buy more domains rn …
hey…, so to procrastinate from doing other things this evening i had a go at creating this streaming front page

:
can put it onto a scanlines domain at some point + i wanna collect a bunch more of peoples twitch handles
but yahh. you get the idea. im no web dev lol so open to suggestions / improvements lol https://github.com/langolierz/scanlines-stream-page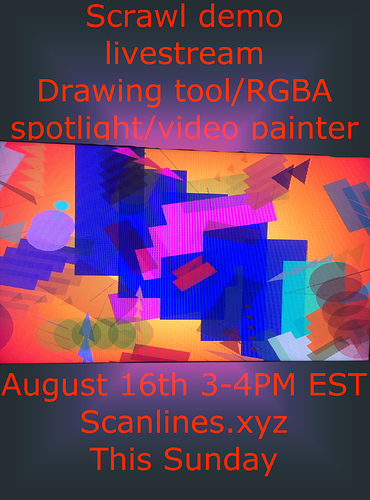 we are doing a giveaway with this stream too for those that join us based on the same d100 table as last time

I'll make sure to bring the d100 this time though
We'll be making live visuals as Pixelflowers later today, from 8.00PM to 12PM CEST, over house-acid-techno music. We've been doing this every Wednesday and Friday since March.
URL (active after 7.55PM CEST): https://live.autistici.org/#daddiesonacid (that's an independent/grassroot/noprofit/militant server)
(pitch?): LZX Vidiot meets Resolume, independent queer porn meets analog glitches
how we do this: my partner loops/processes selected video footage (it's often queer porn), I process it further with a BPMC Premium Cable, a Vidiot and a Syntonie AVE MOD V2 / add video feedback & audio interferences on top of it / mix it with a good ol' WJ-AVE5 and send it to OBS through a 15-bucks USB capture card. Since our internet sucks To keep it real, we stream at 700 kbps.
(we haven't been much active in this community yet but we feel very close!)
@pixelflowers stream is looking good ! thnx for posting, looking forward to seeing more of what ur up to (and since in berlin too, meeting on the dancefloorr one day

)




i feel this
@pixelflowers it seems that calendar posts were being deleted 1 hour after 'expiration' -> maybe it somehow got confused by your end time or some other reason.
changed in the settings to only delete 48hours after and also tried adding an end time to ur event